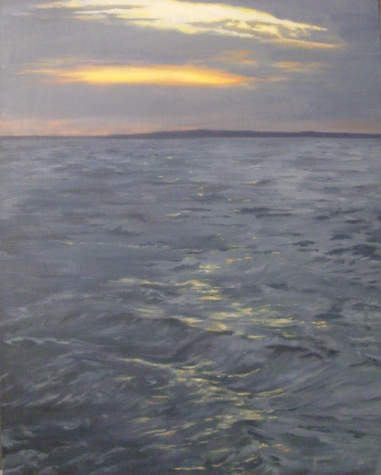 On September 6, 2010 my home, high in the Rocky Mountains above Boulder, burned to the ground. There were 168 homes lost. All lives were saved, but nothing else remained. Everything I had, including all my artwork and studio, was gone.
There will always be a 'before the fire' and 'after the fire'. My sense of personal chronology is forever altered. The part of us that tries to operate and understand the world in a day to day fashion seems to run off an intuitive compass. That compass provides direction based on many things and I believe that what we would call 'the familiar' is a basic premise of our ability to navigate. Before the fire, I had my home, a dress my husband bought me when we were in Paris, an art studio full of paintings and portfolios and sketchbooks and photos, and a lifetime of the gathering of stuff that feathers our nest as we humans are prone to. The familiar. After the fire, I had my loved ones, my car, and the clothes on my back. In just a few moments, my whole world had become unfamiliar. My lost sense of place and peace and continuity was perhaps the most unfamiliar and disturbing of all. I was disconnected from everything except my family. I was even disconnected from my art-self for several months. That was really scary. My compass was spinning randomly while I lived in a brain fog just trying to breathe.
I had just lost everything in my world, yet, we were alive. We only had about 20 minutes that morning to grab our daughter and dogs and leave. We didn't have 1 extra minute.
In late October, I was able to go spend a week on the Atlantic Ocean, off season, in a tiny motel right on the beach near Montauk. As I breathed in the cold sea infused air and took lots of long beach walks, I could sense a start in the process of healing. Peace was coming back, I was coming back. I knew that the water, which has always been my haven, would be the catalyst for new beginnings. I decided that I would begin to paint again on January 1, 2011, and my goal for the New Year was to have 12 finished paintings by the end of December.
I have always loved, I mean really loved, the water. Waves, oceans, estuaries, rivers.....it all flows through us as one. It is the source of all life and intrinsically connects everyone and everything on the planet....except, maybe fire. Here, water trumps the fire by its very nature. Water wins. We win. Life is fresh and clean and new again and that is a very, very good thing.
Thank you for taking the time to visit my website.
I hope you enjoy my water paintings.